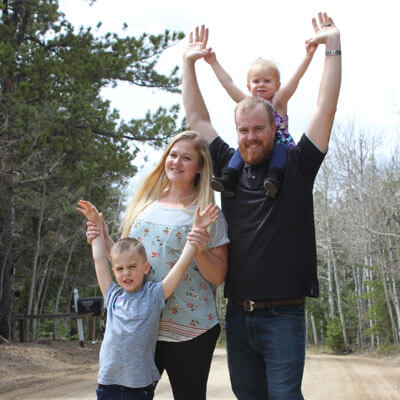 Five Parks Chiropractic Reviews
What Our Arvada Patients Say
At Five Parks Chiropractic we love when patients share with us their feedback and comments after chiropractic care. Please read our patient testimonials below to see what other people have achieved through their tailored treatment plans with us.
Share your stories too! Click here to send us your feedback so that we can help to spread the word about the benefits of natural Five Parks Chiropractic care.
For more information or to schedule an appointment call or email us today.

Improved Life
My entire life has improved for the better. Sleep easier, caring for myself is easier, LIFE is easier.
– Lakin S.
My Kids Love Coming Here
Mia is responding well, we notice she moves better, especially going up stairs. Everyone is very welcoming, my kids loving coming here, Mia loves the attention she is getting.
– Mia B. (5 year old / female)
Completely Healed
I'm almost completely healed from pain / discomfort.
– Caitlin B.
Extremely Satisfied
I am already (first week of care) seeing results and is a huge relief. I look forward to coming and to the outcome of all of this. Extremely satisfied, very warm and friendly and make me feel as if they really do care! Always smiling.
– Natasha S.
Awesome Cre
I've received awesome care, and can happily report that I've been completely pain-free for over 9 months! The entire staff are extremely friendly, professional, and fun to be around. Highly recommended!
– Sam
Best Chiropractor
I've been to many Chiropractors over the past 30 years this is the best I've experienced. They truly understand the bio-mechanics of the spine and provide the correct treatment and therapy to correct it. I've had issues with my neck for many years and in just 3 months of treatment my neck has a nearly perfect curvature and my pain is gone. The staff is always professional and courteous. I highly recommend them.
– Joe
Excellent Care
I look forward to going each week and miss it when I don't! It's not just because I feel better, everyone working there makes me feel right at home. It's not a race to get my session done either. I've made great progress on my original diagnosis. They listen to what's going on each time and adjust accordingly so new issues do not become permanent problems. It's the place to go for excellent care!
– Laura
Pain Free
I was suffering from intolerable pain, barely able to walk. Dr. Jim did a thorough evaluation and immediately knew how to address my problems. Within two short weeks I was pain free and walking normally again. Dr. Jim has remained my trusted care provider for nearly 15 years.
– Dema H.

Five Parks Chiropractic Reviews | (720) 462-3714